If you are looking to mint and sell a Non-Fungible Token (NFT), I can provide an insightful vantage point from various market and consumer perspectives. My analysis is based on experience, industry insight and daily market observation.
I can provide a radar graph and summary that highlights key factors and provides a reasonable target price for listing your work. To the corollary, I may also tell you that your baby is ugly. No one wants to hear it, but sometimes (albeit rarely) it needs to be said.
Successfully selling an NFT requires some if not all of the following:
The Original Work
Rights Agreement(s)
File Checksum(s)
Capturing Creation Output
Abstracts
Wallet Documentation
NFTs come with the benefit of more artist-friendly terms, leading to a shift in the balance of power between artist and collector. Note that TokenAngels receives 21% of the residual NFT sales from Matt Kane's piece, not 100%. Similarly, an NFT art marketplace called SuperRare bakes a 10% creator royalty commission into all secondary sales - something Robert Rauschenberg would have appreciated in 1973. A New Frontier More artist-friendly terms along with curated marketplaces like SuperRare and Async Art are attracting a flood of new artists into the space. For a profession that's notoriously impoverished, the allure of large amounts of money sloshing around these markets make crypto art even harder to ignore.
A recent report by Hashkey Group noted:
"As of February 25, 2021, the total transaction volume reached 170 million. The transaction volume in the first two months of 2021 is 2.7 times that of the entire year of 2020. It can be seen that the industry's interest in the NFT market is heating up. At present, NFT only accounts for 0.2% of the total market value of the encryption market. The market value is very small. The NFT market is still in its infancy and a niche area."
This provides an opportunity for creators everywhere. Early creators have nothing but upside regardless of market direction. During bear markets, buyers warm up as global prices average down. Creators can capitalize even during bear markets by minting when gas fees (gwei) are low. Additionally, the creator can receive a residual percentage of every transaction that happens in the secondary markets even after the initial sale - in perpetuity.
An interesting and lesser known characteristic about NFTs is that as the creator you can get paid when your work sells on the secondary market! That's right. You've sold rights to your work as an NFT and any you can receive a portion of every transaction that happens to it after your sale.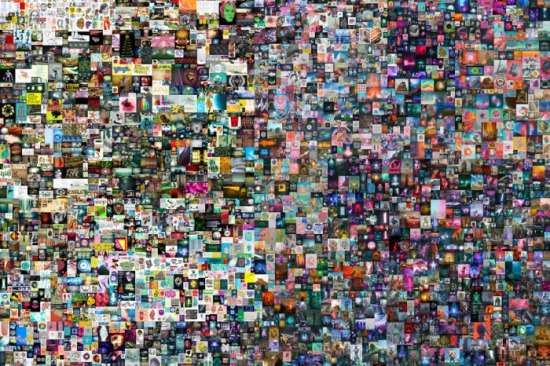 Beeple's collage, Everydays: The First 5000 Days, sold at Christie's. | Image: Beeple
There are 5 primary layers to NFT technology:
Infrastructure – where the non-fungible tokens are stored
Minting – the process that enables people to easily create NFTs
Publishing and Storage – where the content an NFT entitles people to is published and stored
Custody – the wallet, browser or viewer that enables people to show others their NFTs
Marketplace and Swap – where NFTs are acquired and where creators can possibly purchase residual second-market items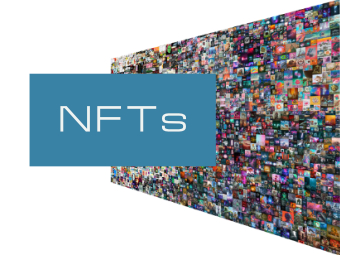 NFT Fundamentals
1
What is a
Non-Fungible Token - NFT?
Nonfungible tokens prove ownership of a digital item – photo, image, sound file or text – in the same way that people own crypto coins. Unlike crypto coins, which are identical and worth the same, NFTs are unique.
2
Continuous
Integration
This is a pivotal phase of development, where the developers work with the operations personnel to understand end-user needs. Our developers continuously merge their code changes in a shared repository, facilitating timely integration and automated testing.
3
Continuous
Testing
Timely execution of testing is key to the health of any software. We enforce a frequent-testing policy by way of automation. Newly committed code is passed through various testing phases to ensure quality maintenance.
4
Continuous
Deployment
Continuous deployment is necessary to take full advantage of a well-designed agile system. Every significant, validated change is automatically released to the users. Quick releases enhance the feedback loop, such that developers can isolate issues with higher accuracy.
Frequently Asked Questions
Contact me now to leverage your current position before opportunity passes.
Disclaimer:
I am not a financial advisor. I simply factor in market conditions during appraisal and consultation.
I do own several cryptocurrencies and tokens, including but not limited to the ones mentioned herein. Blockchain technology and specifically cryptocurrency / DeFi and NFT markets are highly volatile and high risk. I make no guarantees about strength or performance of any NFT listing based on my analysis.
Contact Me
Let us help you maximize cost efficiency and optimize your DevOps and service delivery lifecycle.
Our Location
Bergeron Consulting Group
Atlanta, GA, 30329
Message Me